This past November
, the pastel painting of mine titled, "Spirit of the Rum River",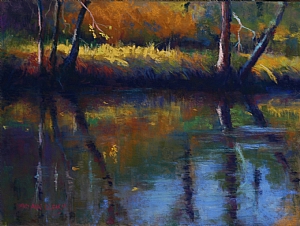 The Spirit of the Rum River
won third place in the 2010 Image Art Show. What an honor!
The show is sponsored by the East Central Arts Council in Minnesota and funded by the McKnight Foundation. The purpose is to expose art to urban areas of the state. I do feel fortunate to live in a state that is so supportive of the arts.
Working in pastel is something new for me. After watching a demo by one of my artist friends and then seeing how he framed his pastels using spacers and glass versus matting and then framing, I could not resist and I had to give working with pastels a try. A paper much like sandpaper is used to enable the pastels to hold onto the surface. This paper is archival, acid-free paper and I mount it onto a board used to mount photos to make the working surface more durable and easier to frame.
Pastels are one of the most permanent of all artist's materials available. Pure pigment is applied to the artist's canvas. Unlike oil paints or watercolors where a filler and binder are used, pastels are dry, pure pigment.
My only regret with pastels is not using them sooner.